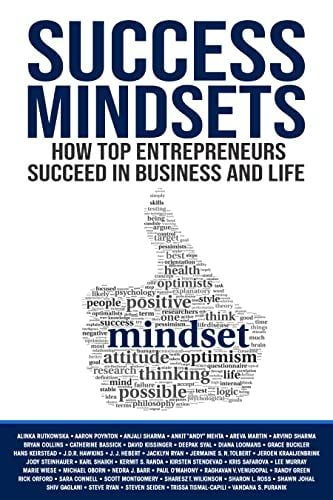 Success Mindsets
Authors
By:
Alinka Rutkowska
,
Aaron Poynton
,
Andy Mehta
,
Anjali Sharma
,
Areva Martin
,
Arvind Sharma
,
Bryan Collins
,
Catherine Marcus Bassick
,
David E Kissinger
,
Deepak Syal
,
Diana Loomans
,
Grace Buckler
,
Hans Keirstead
,
Jacci Perry-Ryan
,
Jermaine Tolbert
,
Jeroen Kraaijenbrink
,
Jody Steinhauer
,
Julie Hawkins
,
Justin Hebert
,
Karl Shaikh
,
Kermit Randa
,
Kirsten Stendevad
,
Kristina Safarova
,
Lee Murray
,
Marie Wiese
,
Michael Oborn
,
Nedra Barr
,
Paul O'Mahony
,
Raghavan Venugopal
,
Randy Green
,
Rick Orford
,
Sara Connell
,
Scott Montgomery
,
Sharesz T. Wilkinson
,
Sharon Ross
,
Shawn Johal
,
Shiv Gaglani
,
Steve Ryan
,
Steven Seiden
,
Trissa Tismal-Capili
and
Vandana S. Puranik
USA Today and Wall Street Journal best-seller!
For driven individuals searching for a more positive attitude, Success Mindsets is an anthology highlighting the thought process, attitude and approach to your professional life. The difference between success and failure is how you view a problem.
WHAT'S THE NUMBER ONE DRIVER OF A SUCCESS MINDSET?
FIND OUT NOW IN THE LATEST MIND-BOGGLING ANTHOLOGY FROM LEADERS PRESS! 
The world prizes success. It rarely shows the effort people make to achieve it. We crave success, but it can seem so unattainable that we assume it's not for us. What if successful business people were to let us in on their secrets? That what separates the adored from the overlooked is mindset.
You will come to understand this by reading the brilliant contributors of Success Mindsets. This anthology gathers advice from several dozen exceptional leaders, ranging from CEOs to champions to game-changers. Success Mindsets reveals that many roads lead to success and you must choose the one that suits your concept best.
Each chapter in Success Mindsets will reveal methods for developing the right approach for navigating your journey to success. Dive in now to:
Understand the mindset of being adaptable in your pursuit of success. 
Adopt a growth mindset, to value long-term growth over short-term revenue. 
Utilize your driven mindset to keep advancing your career even as the world turns completely upside down.  
Study areas of strength and bolster weaknesses through the mindset of lifelong learning. 
Embrace the mindset of self-compassion to look out for yourself while leading others.  
Minds are more effective when they are open. You can always adapt your mindset to the situation in pursuit of your goals. What mindset will shepherd you through your professional journey?
Available On