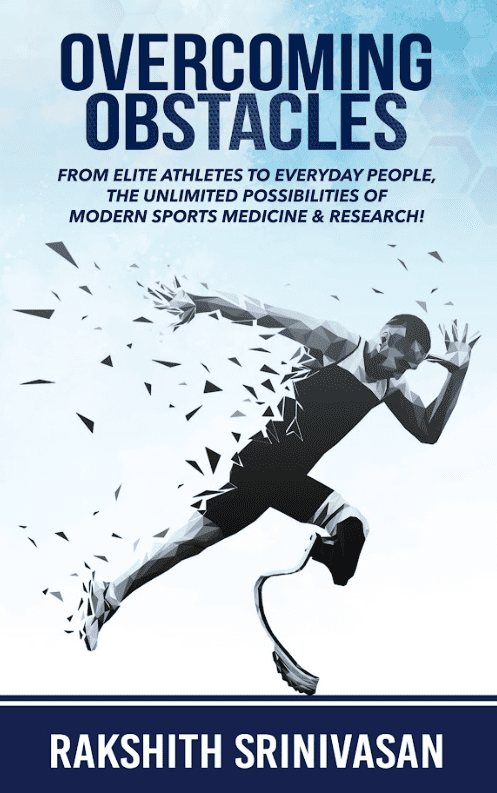 Overcoming Obstacles
Author
From Elite Athletes To Everyday People, the Unlimited Possibilities of Modern Sports MedicineOvercoming Obstacles
Overcoming Obstacles powerfully demonstrates how modern sports medicine has made it possible for athletes of all types—abled, differently abled, recovering from injuries, elderly—to participate in sports. From high tech myoelectric prosthetics to low tech yoga routines and much, much more, there a wide spectrum of tools and techniques available today to help make sports available to all.
As beneficial as modern sports medicine and the prosthetics and monitoring devices it utilizes are, there are costs involved. Funding is a crucial ingredient in widening access to sports worldwide. Significant research remains to be done to continue expanding the number of people who can take part in athletic activities. This research is vital to helping people get from disabled to differently abled and from injured to back in the game.
To date, developments in technology have spurred amazing advances in sports medicine such as bionic limbs, myoelectric prosthetics designed to mimic the feeling of normal limb function, and exoskeletons that provide robotic limb control. 3D printing of some of these devices has emerged as a way to bring costs down and expand availability. An additional technique that uses advances in technology to enable wide sports participation is osseointegration, where a therapeutic object is embedded into the body.
Accelerating recovery from injuries is another area in which modern sports medicine has worked wonders. From stem cell procedures to platelet rich therapy, prolotherapy, and low-level laser therapy (LLLT), new methods for treating injuries have enabled athletes, both professional and casual, to drastically reduce rehabilitation time. 
Overcoming Obstacles also provides detailed coverage of how modern sports medicine has turned the process of injury prevention into a science. Athletes can now wear smart devices that help them monitor their condition around the clock. Furthermore, genetic and epigenetic research can be used to point out the type of injuries an athlete may be susceptible to, enabling a proactive approach in order to reduce the chances of these injuries occurring.
Included in these pages are techniques older individuals can use to improve their ability to avoid injury. Among these are neuromuscular training, prehabilitation, and functional movement screening. The book describes in detail how these methods can help keep people injury free so they can continue to engage in athletic activities.
As we age, the body loses crucial muscle mass and is more prone to injury in general. But there are ways to combat the impact of aging on an individual's physical capability. Healthy supplements are available that can enable improvement in these areas. Overcoming Obstacles features a list of supplements that can be used for this purpose. In addition, the book explains how yoga can help people stay active by bolstering their physical and mental capacity. A list of yoga poses (asanas) especially designed to benefit older individuals is included.
Author Rakshith Srinivasan is a passionate believer in the ability of modern sports medicine to help people live their best lives by staying active, whether simply by retaining mobility or participating in sports. In addition to providing a glimpse into the future of sports medicine, Overcoming Obstacles explains how raising funds for research plays a paramount role—a role the author's foundation helps spearhead—in this effort.    
Available On