About
About
Steph Crowe leads leaders to multiply the impact of their people for 10x ROI.
She believes that people power business and connects people with results by identifying and revealing often hidden paths.
Steph quickly spots which directions will lead to tremendous business success and helps organizations leverage their greatest asset: their people.
For more than 20 years, Steph has turned perceived business roadblocks into massive opportunities. She uses an integrated thinking approach to see a company, its difficulties, and its opportunities holistically. From this vantage point, Stephdiscerns the clearest and most direct path to removing barriers
and aligning talent with organizational objectives.
Steph is the Chief Executive Officer of Atlanta-based Learn.net, a leading educational technology (edtech) provider that specializes in performance assurance, proficiency insights and personalized learning through its proprietary Adaptive MicrolearningTM platform. Previously, she was chief learning officer at Worldline Global, where she employed creative learning methods to connect the dots for the company's global talent to help them feel aligned and fired up to multiply their impact.
Prior to joining Worldline, Steph served in several senior-level global learning and development roles, led worldwide training, and founded her own learning company. She began her career as a principal consultant for PricewaterhouseCoopers, where she honed her people-centric approach for success. Steph has lived and worked in the Americas, Europe, and Asia, with stints in New York, San Francisco, London, Paris, Washington DC, São Paulo, and Bengaluru, among others, and is now based in Atlanta. She earned her bachelor's degree in International Studies from American University and an MBA from The Wharton School, graduating with honors from both institutions.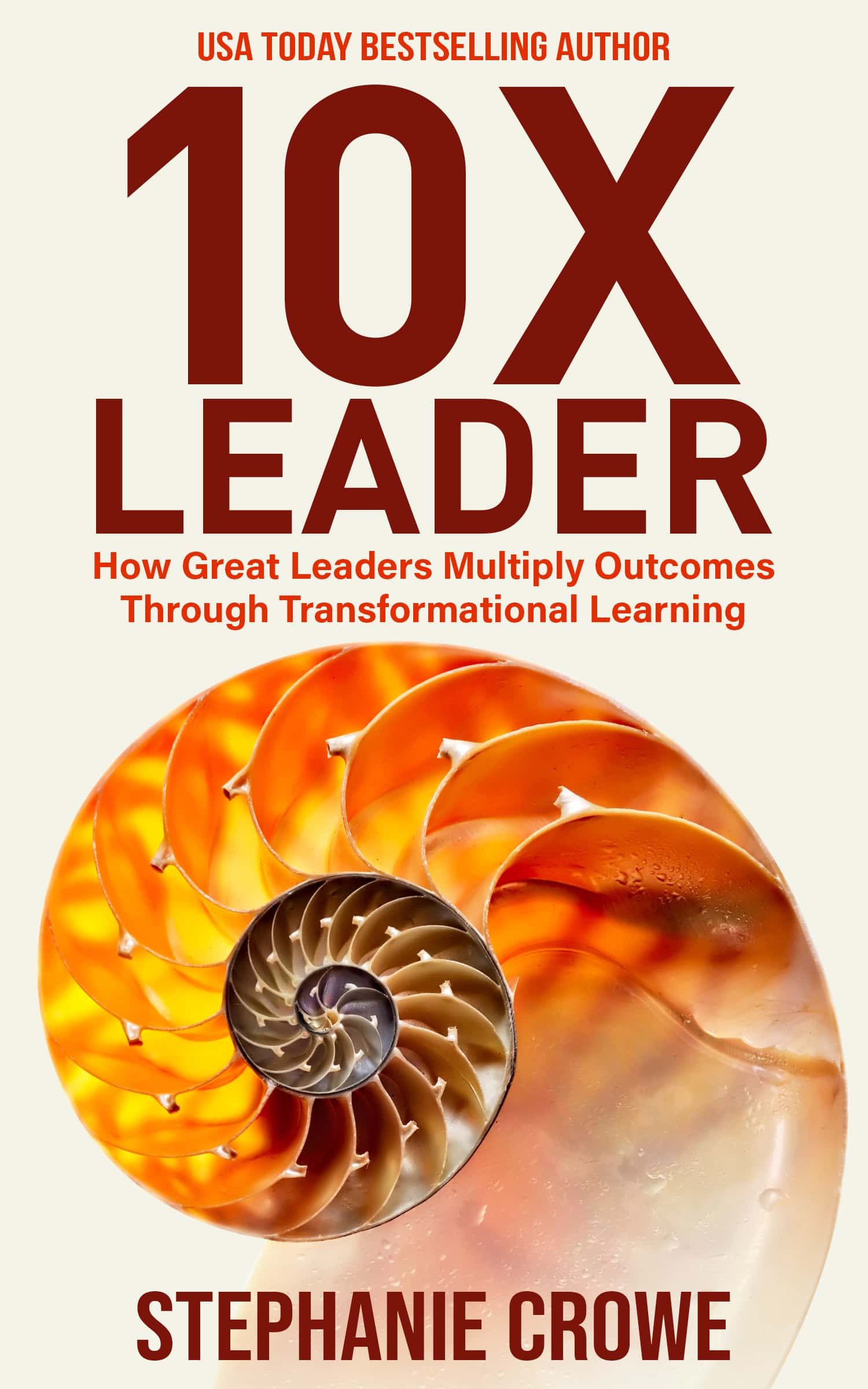 How Great Leaders Multiply Outcomes through Transformational Learning
Unleash the ROI Potential of your Business with Effective Learning Interventions.
10X Leader: How Great Leaders Multiply Outcomes through Transformational Learning
In the fast-paced world of business, visionary leaders understand that investing in employee learning isn't just an expense—it's the key to unlocking unparalleled returns on investment (ROI). 10X Leader by renowned business learning expert Stephanie Crowe unveils the secrets of exceptional leaders who harness the power of strategic learning programs to achieve extraordinary results.
Boost ROI Significantly

: Transform employee education programs into profit centers with a 10X or more return on investment.

Navigate Change Strategically

: Learn to diagnose organizational needs and equip your team for successful transformations.

Align Learning with Results

: Amplify outcomes by aligning learning goals with performance metrics.

Leverage Collective Knowledge

: Harness your organization's collective wisdom to enhance employee learning initiatives.

Real-World Success Stories

: Gain insights from diverse industries achieving remarkable ROI through strategic learning.
Get ready to unlock your ROI potential with transformational learning and drive exceptional results!