About
About
Rashi Khosla is the founder and CEO of MARS Solutions Group (MARS SG).
Ms. Khosla quit her flourishing corporate career in information Technology to pursue her entrepreneurial dreams. Passionate towards technology and data, she launched MARS SG with boot strap capital and grew it organically to a thriving multimillion Dollar business – in just four years.
Under Rashi's leadership, MARS Solutions Group has earned numerous awards and accolades, including spots on the Inc 5000 list, the Future 50 list and several CIO review recognitions. Rashi has also been named the Enterprising Women of the year
MARS SG has matured and proven offerings in the IT & Engineering Staffing arena and has successfully diversified into the Information Management Services. Information Architects at MARS are helping their clients do more with their data and turn it into strategic assets that fuel business growth. She refers to these assets as "Data Capital." Rashi and her team have launched a brand-new platform in 2019 that will be a market disruptor for integration, sentiment analysis, employee engagement, and diversity & inclusion.
A natural and meticulous strategist, Rashi worked across the globe, managing large teams and developing Data and Information solutions for a number of prominent clients. Her innovative approach to problem-solving is perhaps her greatest strength as a leader.
Prior to her work with MARS Solutions Group, Rashi has served in technical and management positions and has been retained as a consultant for several Milwaukee companies in various industries. She has maintained a strong background in business, technology, and process development throughout her career in the information technology arena.
Her proudest achievement to date has been her family. She loves being a mom to her two daughters and they help her maintain a healthy perspective that emphasized work-life balance.
Rashi has special philanthropic interests in helping kids with disabilities and mentoring women in the STEM field, and supports numerous organizations involved in these causes. As such, Rashi serves on the Board of Ronald McDonald House of Charities Eastern Wisconsin as well as on the HR committee for this organization. Rashi also serves on Social Committee for I.C. Stars in Milwaukee, that is an immersive technology workforce training and placement program for promising young adults.
Rashi and her team has successfully launched a program to support women that are returning to workforce after a break in their career under a new initiative called MARS Returnship.
Rashi is also proud to have earned certifications for MARS SG as a Women & Minority Business Enterprise (WMBE), and as a Women-Owned Small Business (WOSB). Because of Rashi's success as a "growth partner" in these capacities, MARS SG is consistently recognized as a top diversity supplier by the companies that they serve.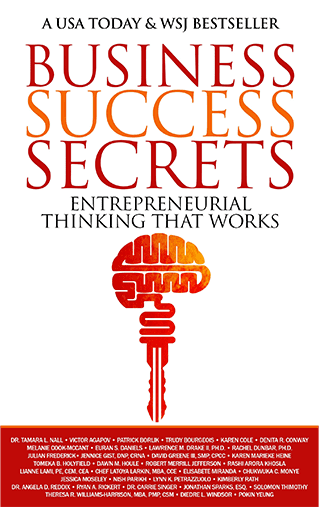 Now a USA Today and Wall Street Journal best-seller!
BEYOND THE HIGHLIGHT REEL: AN HONEST, RAW AND REAL LOOK AT SOME OF THE BEST KEPT ENTREPRENEURIAL SECRETS! Buried beneath the impressive awards and accolades of each successful entrepreneur lies the hard-knocks story of the grit, determination, and resourcefulness it took to mount the summit of a dream. What you don't know is just how much they learned along the way…. Business Success Secrets is a book written for entrepreneurs by entrepreneurs. Forget the flashing banners, false promises of overnight success, and the phony internet gurus – this is business insight straight from the source. Laying it all on the line, each author in the anthology has come together for one singular purpose: to bring you the undiluted truth of what it takes to make your business dream a reality.