About
About
Nedra Barr is an Award-winning Speaker, Publisher, and Enterprise Sales Executive. She has an extensive background in sales management, building sales teams, sales marketing, and go-to-market strategy. Her superpower is taking tech companies entering the growth phase and exploding them with revenue. She is a skilled communicator who is most comfortable in presentations to groups and individuals controlling the decision-making process.
With more than 25 years of experience across information technology, insurance, and financial services, Nedra is currently the Chief Revenue Officer for Skience. As Chief Revenue Officer, she designed and built all sales tools and processes to be prepared for a new sales team. She also hired and trained a new scratch sales team that started in January of this year selling the Skience Digital Platform and built a sales team and processes for Salesforce Services Implementation work.
Nedra has developed a research-based marketing program for Insurance Technologies designed for lead generation, market and product validation, and brand visibility in target markets. She has also built a scratch sales operation including re-branding products and rebuilding name recognition in market for SunGard which included new product development. Nedra built a top producing commission-only sales team from scratch that developed a performance of 196% of plan in 12 months with New York Life.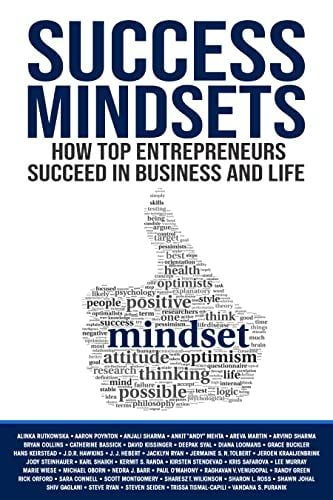 USA Today and Wall Street Journal best-seller!
For driven individuals searching for a more positive attitude, Success Mindsets is an anthology highlighting the thought process, attitude and approach to your professional life. The difference between success and failure is how you view a problem.
WHAT'S THE NUMBER ONE DRIVER OF A SUCCESS MINDSET?
FIND OUT NOW IN THE LATEST MIND-BOGGLING ANTHOLOGY FROM LEADERS PRESS! 
The world prizes success. It rarely shows the effort people make to achieve it. We crave success, but it can seem so unattainable that we assume it's not for us. What if successful business people were to let us in on their secrets? That what separates the adored from the overlooked is mindset.
You will come to understand this by reading the brilliant contributors of Success Mindsets. This anthology gathers advice from several dozen exceptional leaders, ranging from CEOs to champions to game-changers. Success Mindsets reveals that many roads lead to success and you must choose the one that suits your concept best.
Each chapter in Success Mindsets will reveal methods for developing the right approach for navigating your journey to success. Dive in now to:
Understand the mindset of being adaptable in your pursuit of success. 
Adopt a growth mindset, to value long-term growth over short-term revenue. 
Utilize your driven mindset to keep advancing your career even as the world turns completely upside down.  
Study areas of strength and bolster weaknesses through the mindset of lifelong learning. 
Embrace the mindset of self-compassion to look out for yourself while leading others.  
Minds are more effective when they are open. You can always adapt your mindset to the situation in pursuit of your goals. What mindset will shepherd you through your professional journey?