About
About
Michael Cavallaro's life work has been finding ways for people to integrate their spiritual nature with their everyday lives. For almost 40 years, through classes, workshops, lectures, books, audios, articles and private consultations he has helped thousands of people lead healthier, happier lives by finding practical solutions to various challenges.
His training as a family intervention counselor and clinical hypnotherapist has given him insight into established approaches to problems. The exploration of a variety of spiritual practices, traditional and non-traditional methods, combined with his own experience inspired him to integrate and apply ancient wisdom with modern life. He facilitates couples workshops, personal development classes and individual sessions.
Michael's background is as varied as his interests. He has worked in the fields of construction, management, finance, insurance and more. He has taught in schools and prisons and teaches classes in artistic expression. He serves as an Educational Consultant at Teamwork Wins, Ltd, a non-profit organization that guides individuals with Invisible Challenges™ in becoming self-directed, free-thinking creative individuals.
He has recorded several music CD's and creates unique artwork. He is an accomplished artist and musician as well as author. Michael brings all these interests together under the canopy of bringing light to the world and assisting others in finding joy in their existence as well as the connection within their own selves.
As an international speaker, he has lectured worldwide on the 55 Concepts, Mastering the Art of Being Human, the I AM process™, parenting, spirituality and the practical skills needed to enjoy life. His talks and workshops have taken him through the United States, New Zealand, England, and more. Michael is the author of several books including, "The 55 Concepts, A Guide to Conscious Living", and "Change Your Mind Not Your Child, Loving Your Child by Raising Your Consciousness." He speaks worldwide on the practical skills needed to meet life's challenges. Applying ancient wisdom to modern life, his style is practical, direct, humorous and loving, reaching audiences of all ages on many levels.
Michael lives in Pennsylvania with his wife Adele and is the founder of Living Concepts, LLC.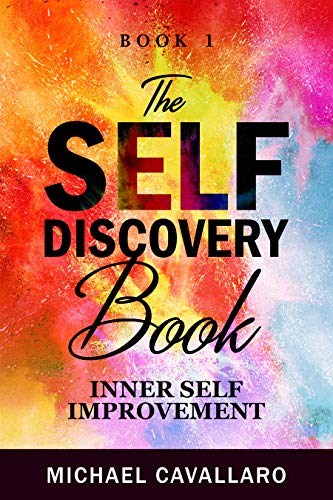 Amazon best-seller
ARE YOU READY TO DISCOVER YOUR TRUE SELF? The Self-Discovery Book offers you the chance to embark on a breathtaking and unique journey toward finding your true self. Take the first step with the Inner Self-Improvement Book 1. Warning: After reading this book, you'll see life in a completely new way. Psychology counselor, international speaker, workshop leader, artist, and self-improvement guru Michael Cavallaro gives you the tools to look within, master your human experience, awaken to a new sense of self, and discover a new way of being.