About
About
Kimberly Rath, Co-Founder and Co-Chairman of Talent Plus ®, helps leaders achieve their highest potential through talent-based strategies and solutions. She is committed to helping others realize their potential and create a leadership legacy that has enduring impact and ensures a fulfilling and meaningful future for others.
Through her leadership, Kimberly has delivered tremendous outcomes for some of the world's most well-known brands, including Estée Lauder, Ferragamo, Delta Airlines, UCLA Health, University of Kansas Health System, The Ritz-Carlton and KSL Resorts. She has enthusiastically helped organizations identify, cultivate and align individual talents to role performance by focusing on The Science of Talent ®.
An innovator and visionary, Kimberly has been at the forefront of thinking about talent her entire career. The solutions provided by Talent Plus are unparalleled in the industry, and her philosophy of customer service, relationship and caring has been the springboard for its growth. An entrepreneur at heart, Kimberly feels a kinship with those starting up new
organizations and is fueled by their enthusiasm to challenge the status quo and bring new or improved solutions to the market.
Practicing what she preaches, Kimberly has invested the time and energy to create a best-in-class culture at Talent Plus. The company has been named seven times in the Top 10 of Fortune 100 Best Companies to Work For by the Great Place to Work Institute, and six times on the Modern Healthcare Best Places to Work list.
Passionate about giving back, Kimberly sits on four boards – Nelnet, ProviderTrust, Tabitha and Artists for Trauma – and she is a trustee for University of Nebraska and Lincoln Community Foundations. She is a member of the Young Presidents' Organization and Chief Executives Organization. She has been the recipient of Great Place to Work Institute with an ALL Leadership Award,
the Business Excellence Award from the University of Nebraska-Lincoln and the national Delta Gamma Shield Award. Kimberly and Talent Plus have been highlighted in several books, including Prescription for Excellence, The New Gold Standard, Close Like the Pros and Managing to Make a Difference, as well as a new book to be released in 2021, Business Success Secrets.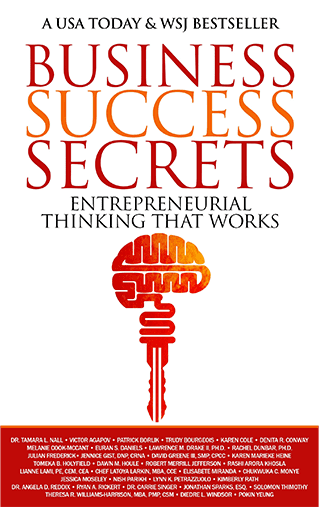 Now a USA Today and Wall Street Journal best-seller!
BEYOND THE HIGHLIGHT REEL: AN HONEST, RAW AND REAL LOOK AT SOME OF THE BEST KEPT ENTREPRENEURIAL SECRETS! Buried beneath the impressive awards and accolades of each successful entrepreneur lies the hard-knocks story of the grit, determination, and resourcefulness it took to mount the summit of a dream. What you don't know is just how much they learned along the way…. Business Success Secrets is a book written for entrepreneurs by entrepreneurs. Forget the flashing banners, false promises of overnight success, and the phony internet gurus – this is business insight straight from the source. Laying it all on the line, each author in the anthology has come together for one singular purpose: to bring you the undiluted truth of what it takes to make your business dream a reality.