About
About
President and founder of The Bargains Group, Jody Steinhauer has mobilized her award-winning discount wholesale and promotional products company to revolutionize the business landscape for good. She has been the esteemed recipient of many awards including The Business Leader of the Year Award, Canadian Woman Entrepreneur of the Year Award, and Canada's Top 40 Under 40. As a Canadian female entrepreneur, Jody uses her network of resources and leveraged buying power to aid every company and nonprofit agency that she touches to maximize their buying dollar. Pioneering her belief of "giving back makes great business sense," Jody is a tireless advocate and founder of the charity Engage and Change. Its two annual initiatives, Project Winter Survival and Project Water, help thousands of homeless survive the extreme weather conditions while engaging individuals in active philanthropy. Inspired by the impact her charity has made, Jody launched the social enterprise Kits for a Cause. Jody has created a turn-key, fun, and engaging program for businesses to engage their employees while solving local community services' needs for resources and creating massive impact simultaneously. Her model of "brokering goodness" has worked with some of the top industry leaders in both the corporate and philanthropic spheres. Jody resides in Toronto, Canada, with her husband, five children, and dog. For more information, visit bargainsgroup.com and kitsforacause.com.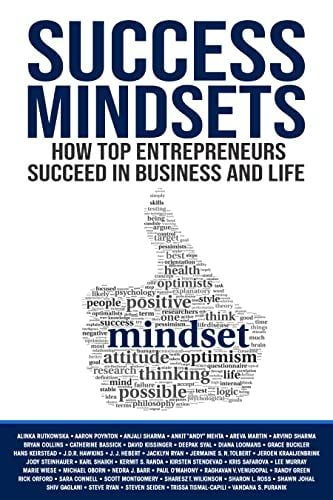 USA Today and Wall Street Journal best-seller!
For driven individuals searching for a more positive attitude, Success Mindsets is an anthology highlighting the thought process, attitude and approach to your professional life. The difference between success and failure is how you view a problem.
WHAT'S THE NUMBER ONE DRIVER OF A SUCCESS MINDSET?
FIND OUT NOW IN THE LATEST MIND-BOGGLING ANTHOLOGY FROM LEADERS PRESS! 
The world prizes success. It rarely shows the effort people make to achieve it. We crave success, but it can seem so unattainable that we assume it's not for us. What if successful business people were to let us in on their secrets? That what separates the adored from the overlooked is mindset.
You will come to understand this by reading the brilliant contributors of Success Mindsets. This anthology gathers advice from several dozen exceptional leaders, ranging from CEOs to champions to game-changers. Success Mindsets reveals that many roads lead to success and you must choose the one that suits your concept best.
Each chapter in Success Mindsets will reveal methods for developing the right approach for navigating your journey to success. Dive in now to:
Understand the mindset of being adaptable in your pursuit of success. 
Adopt a growth mindset, to value long-term growth over short-term revenue. 
Utilize your driven mindset to keep advancing your career even as the world turns completely upside down.  
Study areas of strength and bolster weaknesses through the mindset of lifelong learning. 
Embrace the mindset of self-compassion to look out for yourself while leading others.  
Minds are more effective when they are open. You can always adapt your mindset to the situation in pursuit of your goals. What mindset will shepherd you through your professional journey?