About
About
Jeroen Kraaijenbrink is an accomplished strategy educator, speaker, writer and consultant with over two decades of experience bridging academia and industry. He empowers people and organizations to discover, formulate, and execute their future plans by providing them with strategic guidance. In doing so, he enables them to realize their greatest ambitions. Drawing from cognitive psychology, humanism, martial arts, Saint Benedict, and a wide range of other sources, he is the author of numerous articles on strategy, sustainability, and personal leadership and five books: Strategy Consulting, No More Bananas, Unlearning Strategy, and The Strategy Handbook, a twovolume practical guide to strategy. He is an active Forbes contributor where he writes about strategy, leadership, and how to help you embrace the complexity and uncertainty of this world. He has a PhD in industrial management, teaches strategy at the University of Amsterdam Business School, and has helped many midsized and larger companies across the engineering, manufacturing, healthcare, and financial services industries. Jeroen is the originator of the Strategy Manifesto, envisioning what strategy could and should be like in order to live up to its promise to provide effective guidance to 21st century organizations. For more information, visit www.strategymanifesto.com.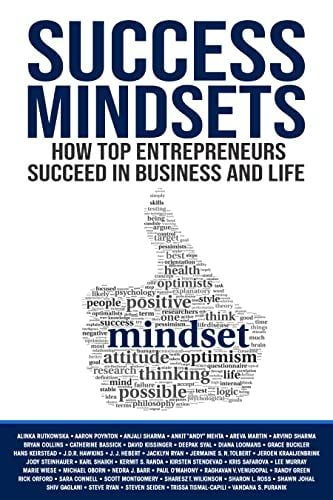 USA Today and Wall Street Journal best-seller!
For driven individuals searching for a more positive attitude, Success Mindsets is an anthology highlighting the thought process, attitude and approach to your professional life. The difference between success and failure is how you view a problem.
WHAT'S THE NUMBER ONE DRIVER OF A SUCCESS MINDSET?
FIND OUT NOW IN THE LATEST MIND-BOGGLING ANTHOLOGY FROM LEADERS PRESS! 
The world prizes success. It rarely shows the effort people make to achieve it. We crave success, but it can seem so unattainable that we assume it's not for us. What if successful business people were to let us in on their secrets? That what separates the adored from the overlooked is mindset.
You will come to understand this by reading the brilliant contributors of Success Mindsets. This anthology gathers advice from several dozen exceptional leaders, ranging from CEOs to champions to game-changers. Success Mindsets reveals that many roads lead to success and you must choose the one that suits your concept best.
Each chapter in Success Mindsets will reveal methods for developing the right approach for navigating your journey to success. Dive in now to:
Understand the mindset of being adaptable in your pursuit of success. 
Adopt a growth mindset, to value long-term growth over short-term revenue. 
Utilize your driven mindset to keep advancing your career even as the world turns completely upside down.  
Study areas of strength and bolster weaknesses through the mindset of lifelong learning. 
Embrace the mindset of self-compassion to look out for yourself while leading others.  
Minds are more effective when they are open. You can always adapt your mindset to the situation in pursuit of your goals. What mindset will shepherd you through your professional journey?