About
About
JC Gaillard is the Founder and CEO of Corix Partners, a London-based Boutique Management Consultancy Firm and Thought-leadership Platform focused on assisting CIOs and other C-level executives in resolving Cyber Security Strategy, Organisation and Governance challenges.
He is a leading advisor, a senior executive and a global cyber security influencer with over 25 years of experience developed in several financial institutions in the UK and continental Europe, and a track-record at driving fundamental change in the Security field across global organisations, looking beyond the technical horizon into strategy, governance, culture, and the real dynamics of transformation.
French and British national permanently established in the UK since 1993, he holds an Engineering Degree from Telecom Paris and has been co-president of the Cyber Security group of the Telecom Paris alumni association since May 2016.
He runs the Corix Partners blog and the "Security Transformation Leadership" publication on Medium.
He is a Fellow of the Chartered Institute of Information Security (FCIIS) , a member of the Forbes Business Council and contributes regularly to the Business Transformation Network, London Tech Leaders and TechNative websites; he has also posted regularly in the past on The Digital Transformation People, IoTforAll, Business 2 Community and Experfy platforms.
He is an expert contributor on the CIO Water Cooler, and has previously published articles on InfoSecurity Magazine, Computing, the C-Suite.co.uk, Info Sec Buzz, and the IoD Director websites.
He is involved with techUK as part of their Cyber People Series, which explores how CISOs should engage at C-Suite and Board level, with two reports on the theme released in December 2020 and December 2021.
He also collaborates with leading analysts firm Kuppinger Cole in Germany, with the Association for Data and Cyber Governance in the US and with the Edutec Alliance in Brazil.
He was listed in the top 10 of UK 30 most influential thought leaders on Risk, RegTech and Compliance by Thomson Reuters in April 2017, and in the top 100 global social media influencers for financial services by Refinitiv in July 2019.
He is a 2022 Onalytica Cyber Security Influencer, and was also identified by them as "Social Media Amplifier" on Risk Management in April 2021, and as a "Key Opinion Leader" on Data Management, IoT Connectivity and RPA in December 2020 and January 2021, as well as an influential voice and sub-topic expert on hybrid work and the future of work in January 2022.
He has been ranking consistently in the top 5 of global influencers with Thinkers360 on cybersecurity, and in the top 10 on security, leadership and management.
He animates the Security Transformation Research Foundation, a dedicated think-tank and research body affiliated to Corix Partners, aimed at approaching Security problems differently and producing innovative and challenging research ideas in the Security, Business Protection, Risk and Controls space, and co-produces the Cyber Security Transformation podcast on Anchor.He is also a Non-Executive Director with Strata Security Solutions and has been a member of the NextWorld Capital European Advisors Network since 2014.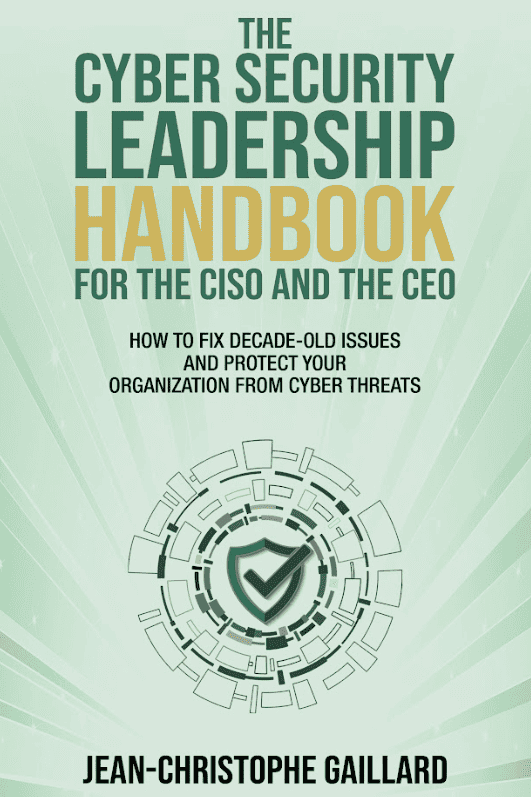 How to Fix Decade-Old Issues and Protect Your Organization from Cyber Threats
In this timely book, veteran information security advisor and thought leader JC Gaillard explains how a common thread in many of the highly publicized data security breaches that have rocked the corporate world in recent years is the neglect of basic cyber security practices. Gaillard doesn't merely cover how these security lapses occur—he also describes concrete steps organizations can take to bring their information security procedures in line with modern best practices. This guidance makes The Cyber Security Leadership Handbook for the CISO and the CEO an indispensable manual for individuals and organizations interested in boosting their knowledge of what it takes to protect their data in today's threat rich environment. 
Gaillard, who has advised many CEOs, CISOs, and CIOs on how to optimize their cyber security practices, takes an in-depth look at why many large firms have struggled with information security. In many cases, legacy issues which should have been resolved years ago are to blame. These organizations often compound the problem and expose themselves to significant risks by engaging in massive digital transformation efforts without covering their basic cyber security bases. 
The book features a collection of articles written from 2015-2022 on the topic of how organizations can improve their ability to counter threats to the security of their data. Throughout the book, Gaillard provides extensive advice to help CISOs and other executives bring their companies into compliance with the latest cybersecurity principles and plug any gaps in their defenses. 
With regulations like GDPR and CCPA privacy legislations building up across the U.S. and worldwide, a "when-not-if" paradigm around cyber-attacks has taken root at the Board level. Gaillard convincingly demonstrates that large organizations, and their CEOS and CISOs, must stop thinking of the topic in pure technological terms and address the underlying cultural and governance issues that have been the true roadblocks to robust cyber security. The solution Gaillard presents is intended to help change the narrative around cyber security and enable organizations to benefit from the greater security engendered by the approach he describes. The Cyber Security Leadership Handbook for the CISO and the CEO provides a roadmap designed to help take an organization's cyber defenses to the next level. It's a must-have for anyone interested in learning how a comprehensive, integrated approach can help organizations overcome legacy and current risks and build a robust, adaptive defense against cyber threats in the corporate world.