About
About
Elisabete Miranda is the founder, president and CEO of CQ fluency, a global language services company focusing on healthcare and life sciences. Elisabete is responsible for taking CQ fluency from a 2-person shop in Hackensack, New Jersey to an international company with 100+ employees with presence in several states in the US, Argentina, Brazil, Canada, Chile, Colombia, Egypt, India, Ireland, Italy, Spain and The Netherlands.
Under Elisabete's guiding principles, superior leadership, and a philosophy of continuous development, CQ fluency has built exceptional client partnerships with organizations focusing on multicultural markets from all over the globe, including Fortune 500 companies such as Merck, UnitedHealthcare, CVS Health, Anthem, Pfizer, Novartis, Bristol Myers Squibb, MetLife and many more. Elisabete is responsible for developing CQ fluency into a purpose-driven company with a mission to improve lives and cultivates a phenomenal people-centric culture. CQ fluency has been a certified Minority and Woman-owned business since 2009, expanded globally in 2018, and has been included in the Inc. 5000 'Fastest Growing Companies in America' list for eight consecutive years.
Elisabete attended business school in Brazil and holds degrees in International Business and Business Management from Montclair State University. She also completed the Hispanic Marketing program at Florida State University, Executive Program at Tuck School of Business at Dartmouth, as well as the Advanced Management Education Program [AMEP] at Kellogg School of Management and Stanford Latino Entrepreneur Program.
In Sao Paulo, Brazil, Elisabete began her professional career in Human Resources with Banco Boavista, B.A. where she spent ten years. She then became a serial entrepreneur in Brazil where she had eleven businesses prior to immigrating to the US in 1994.
The biggest challenge in her transition to the U.S. was not only to learn the language, but to adapt to the vastly different culture, which led to her mission to help people who speak different languages to communicate and culturally connect with each other. As an expert in multicultural communications, she has acted as a cultural consultant for multilingual projects targeting various ethnic communities in the U.S. and abroad for almost three decades.
Over the course of her career, Elisabete has established a reputation as a diversity and inclusion champion, a passionate leader, and has built lasting business and personal relationships through her personable and caring approach to all interactions.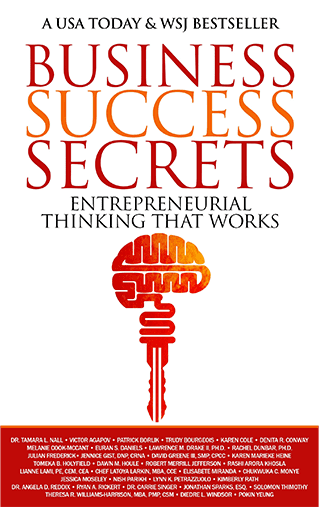 Now a USA Today and Wall Street Journal best-seller!
BEYOND THE HIGHLIGHT REEL: AN HONEST, RAW AND REAL LOOK AT SOME OF THE BEST KEPT ENTREPRENEURIAL SECRETS! Buried beneath the impressive awards and accolades of each successful entrepreneur lies the hard-knocks story of the grit, determination, and resourcefulness it took to mount the summit of a dream. What you don't know is just how much they learned along the way…. Business Success Secrets is a book written for entrepreneurs by entrepreneurs. Forget the flashing banners, false promises of overnight success, and the phony internet gurus – this is business insight straight from the source. Laying it all on the line, each author in the anthology has come together for one singular purpose: to bring you the undiluted truth of what it takes to make your business dream a reality.