About
About
Daniel Hall is a USA TODAY and Wall Street Journal Bestselling author, speaker, consultant, coach, lawyer (JD from Texas Tech University), nurse (BSN from University of Texas at El Paso) and host of the top rated Real Fast Results podcast. He is also the creator of the popular "Real Fast" training programs designed to help authors, speakers, coaches, consultants, trainers, Internet marketers and entrepreneurs effectively grow their businesses faster and profit more effortlessly.  Daniel's first product was the super-successful and very popular Speak on Cruise Ships book which is designed to help speakers trade their public speaking talents on luxury cruise ships worldwide.  He is also the author of the bestselling book Real Fast Writing: How To Write Faster 25 of the Hottest, Easy-to-Implement, Under the Radar Strategies, You Can Use NOW to Write More, Write Better and Write with Panache! Daniel had learned so much about writing, publishing and marketing in the launching and growing of "Speak on Cruise Ships" as well as many other books that he began to develop other products based on his new skill sets.  He created a number of other products under the "Real Fast" brand including – Real Fast Social Graphics (with John Kremer), Real Fast Hollywood Deal (with Hollywood Producer and Literary Agent Ken Atchity), Real Fast Doodle Profits (with New Yorker Magazine cartoonist Lisa Rothstein), Real Fast Library Marketing and Real Fast Indie Book Marketing (with USA Today bestselling author Amy Collins). Along the way, Daniel has kept a very active speaking schedule sharing the stage with folks like Brian Tracy, Mark Victor Hanse n, Tom Antion, Barbara DeAngelis and many others at events all over the country. He has also continued to speak internationally as an enrichment speaker for Celebrity Cruise Lines "Beyond the Podium" program and Royal Caribbean Cruise Lines enrichment program.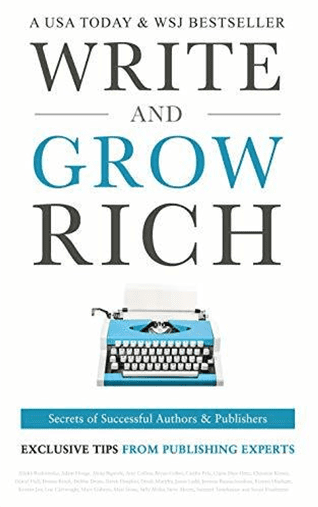 Now a USA Today and Wall Street Journal best-seller!
Have you tried all the entrepreneurial tricks only to end up back where you started? Are you passionate about an idea that you want to share with the world? Do you wish you could turn a single book into something more? Bestselling author Alinka Rutkowska started with one book and transformed it into a successful six-figure business. But she isn't the only one. Join her and 23 other powerful author entrepreneurs as they share "how they did it" in this once-in-a-lifetime collection of true stories. In Write and Grow Rich, you'll discover how this incredible group of authors, marketers, teachers, and trainers turned the corner with the power of writing behind them. By sharing their best practices, authors Adam Houge, Daniel Hall, Caitlyn Pyle, Marc Guberti, Bryan Cohen, Kristen Joy, and many more provide a roadmap to the steps you need to take to join their ranks. Inside, you'll learn which so-called expert advice to avoid and little-known tools for faster, more resilient success.