About
About
Areva Martin is an award-winning civil rights attorney, advocate, legal and social issues commentator, talk show host, and producer. A CNN legal analyst, Areva co-hosted the syndicated talk show Face the Truth and Emmy Award-winning The Doctors. Host of the webbased talk show The Special Report with Areva Martin, she is a regular contributor on Dr. Phil, Good Morning America, and World News Tonight. A best-selling author, Areva has dedicated her fourth book, Awakening: Ladies, Leadership, and the Lies We've Been Told, to helping women worldwide recognize, own, and assert their limitless power. Areva is the founder of Special Needs Network, Inc., California's premier autism advocacy organization. She has raised millions of dollars for autism, and has played a leadership role in advocating for state and federal laws to eliminate disparities in state funding for individuals with disabilities. She is also founder and CEO of the digital health technology company, Butterflly Health, Inc. A Harvard Law School graduate, Areva founded the Los Angeles based civil rights firm, Martin & Martin, LLP. Her extensive business experience has positioned her as one of the top female entrepreneurs of the 21st century.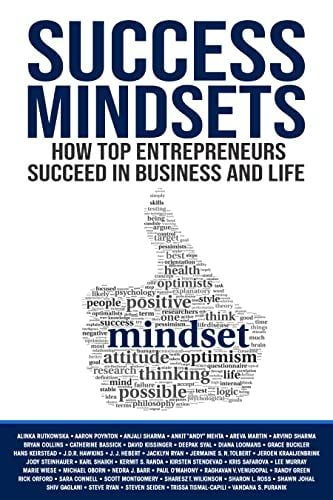 USA Today and Wall Street Journal best-seller!
For driven individuals searching for a more positive attitude, Success Mindsets is an anthology highlighting the thought process, attitude and approach to your professional life. The difference between success and failure is how you view a problem.
WHAT'S THE NUMBER ONE DRIVER OF A SUCCESS MINDSET?
FIND OUT NOW IN THE LATEST MIND-BOGGLING ANTHOLOGY FROM LEADERS PRESS! 
The world prizes success. It rarely shows the effort people make to achieve it. We crave success, but it can seem so unattainable that we assume it's not for us. What if successful business people were to let us in on their secrets? That what separates the adored from the overlooked is mindset.
You will come to understand this by reading the brilliant contributors of Success Mindsets. This anthology gathers advice from several dozen exceptional leaders, ranging from CEOs to champions to game-changers. Success Mindsets reveals that many roads lead to success and you must choose the one that suits your concept best.
Each chapter in Success Mindsets will reveal methods for developing the right approach for navigating your journey to success. Dive in now to:
Understand the mindset of being adaptable in your pursuit of success. 
Adopt a growth mindset, to value long-term growth over short-term revenue. 
Utilize your driven mindset to keep advancing your career even as the world turns completely upside down.  
Study areas of strength and bolster weaknesses through the mindset of lifelong learning. 
Embrace the mindset of self-compassion to look out for yourself while leading others.  
Minds are more effective when they are open. You can always adapt your mindset to the situation in pursuit of your goals. What mindset will shepherd you through your professional journey?