About
About
Dr. Angela D. Reddix is a visionary and innovative thinker with global perspective and entrepreneurial drive. As a passionate mentor and advisor to the next generation of young girls and women, Dr. Reddix is a leading advocate for entrepreneurship as a way of creating positive transformation in the world. Her own entrepreneurial drive led to the formation of ARDX, a multi-million-dollar award-winning healthcare management and IT consulting firm with approximately 100 employees dedicated to improving the lives of our nation's most vulnerable populations.
Dr. Reddix is the Founder of Envision Lead Grow, a Norfolk-based nonprofit aimed at aspiring girls of all ages to chart their destinies by teaching them the critical skills and dedication it takes to accomplish their dreams through entrepreneurship. She is the author of Envision Lead Grow – Releasing the Boss Within, where she shares her knowledge and insights to help women of all ages build their business and improve their lives. She is also the co-author of Business Success Secrets: Entrepreneurial Thinking That Works.
As a trusted community leader, Dr. Reddix serves as a member of the CIVIC Leadership Institute, the Women President's Organization, Old Dominion University's Experiential Learning Task Force, and Old Dominion University's Economic Development Catalyst Task Force. She is also board member and trustee to various local organizations including the United Way of South Hampton Roads Foundation Board of Trustees, the YWCA of South Hampton Roads Board of Directors, Old Dominion University's Educational Foundation Board of Trustees, ODU's Friends of the Humanities Board, the Kempsville Entrepreneurship Academy Board of Advisors, Norfolk State University's School of Business Advisory Board, Communities in Schools of Hampton Roads Board of Directors, and the Hampton Roads Chamber Regional and Trustee Board.
Committed to lifelong learning and achievement, Dr. Reddix is a TEDx speaker, a Forbes Business Council Member and she is currently an Associate Professor of Business and Director of Norfolk State University's Hodge Center. She received her bachelor's degree in Business Administration in Marketing from James Madison University, a master's degree in Organizational Development from Bowie State University with a focus on Training, a graduate certificate in Healthcare Compliance from The George Washington University, and Ph.D. in Business Administration from Oklahoma State University. Dr. Reddix was born in Norfolk, Virginia, and has a husband and three children.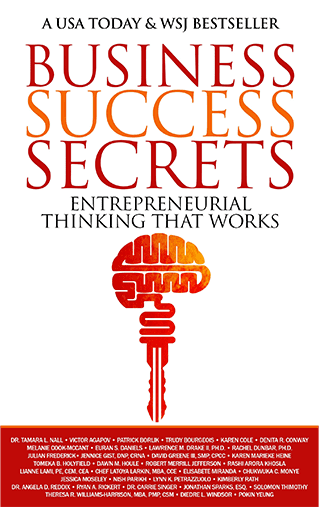 Now a USA Today and Wall Street Journal best-seller!
BEYOND THE HIGHLIGHT REEL: AN HONEST, RAW AND REAL LOOK AT SOME OF THE BEST KEPT ENTREPRENEURIAL SECRETS! Buried beneath the impressive awards and accolades of each successful entrepreneur lies the hard-knocks story of the grit, determination, and resourcefulness it took to mount the summit of a dream. What you don't know is just how much they learned along the way…. Business Success Secrets is a book written for entrepreneurs by entrepreneurs. Forget the flashing banners, false promises of overnight success, and the phony internet gurus – this is business insight straight from the source. Laying it all on the line, each author in the anthology has come together for one singular purpose: to bring you the undiluted truth of what it takes to make your business dream a reality.