About
About
Amy Collins is an agent with the Talcott Notch Literary Services agency. With 30 years in the publishing industry as a book buyer, Sales Director for large non-fiction publisher and the founder and President of New Shelves Books, one of the largest book sales and marketing companies in the US. She is a USA TODAY and WALL STREET JOURNAL bestselling author and has spent her career working with Barnes & Noble, Target, Costco, Books-A-Million, Wal-Mart, as well as bookstores and libraries. As well as an agent, Collins is a trusted expert, speaker, and recommended publishing consultant for some of the largest book and library retailers and wholesalers in the publishing industry. In her agent role, Collins focuses on non-fiction/ history, historical fiction, fantasy and sci-fi. She can be reached at amysadvice.com.
She is on the national advisory board for IngramSpark, a member of Mensa, a featured columnist for THEBOOKDESIGNER, Writers Digest, IBPA, and a trusted teacher at conferences world-wide. She has taught and spoken at many of the publishing industry's top festivals and conferences including Publisher's Weekly's BookCon, Oklahoma Writer's Conference, Author U, AAPS, Dublin Writers Conference, BAIPA, PALA, St. Louis Writer's Conference, Writers Digest, Henderson Writers Conference, and many others.
When not in the office, her focus is on the working poor and poverty elimination, and she spends a great deal of time personally and professionally working with and training women from disadvantaged backgrounds. A member of several charitable and political organizations, she donates not only her time, but a portion of her company's profits to grant based charities that work to alleviate the cycle of poverty.
She is a singer in a Celtic blues band on the weekends and is saving for a faster motorcycle.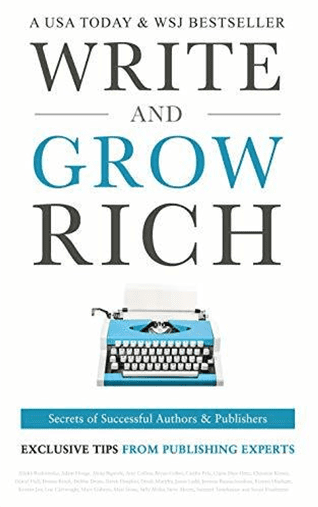 Now a USA Today and Wall Street Journal best-seller!
Have you tried all the entrepreneurial tricks only to end up back where you started? Are you passionate about an idea that you want to share with the world? Do you wish you could turn a single book into something more? Bestselling author Alinka Rutkowska started with one book and transformed it into a successful six-figure business. But she isn't the only one. Join her and 23 other powerful author entrepreneurs as they share "how they did it" in this once-in-a-lifetime collection of true stories. In Write and Grow Rich, you'll discover how this incredible group of authors, marketers, teachers, and trainers turned the corner with the power of writing behind them. By sharing their best practices, authors Adam Houge, Daniel Hall, Caitlyn Pyle, Marc Guberti, Bryan Cohen, Kristen Joy, and many more provide a roadmap to the steps you need to take to join their ranks. Inside, you'll learn which so-called expert advice to avoid and little-known tools for faster, more resilient success.