About
About
Alexa Bigwarfe is a wife, mother to 3 wildlings, devoted advocate, blogger, author, and publisher. Her writing career began after her infant daughter passed away at 2 days old. She has written and/or edited and published numerous books, including Sunshine After the Storm: A Survival Guide for the Grieving Mother and Ditch the Fear and Just Write It!
Alexa coaches authors through the publishing and marketing process in her company Write|Publish|Sell (writepublishsell.co). She also owns the small hybrid-publishing company Kat Biggie Press (katbiggiepress.com), dedicated to sharing women's works of inspiration and self-help, Purple Butterfly Press, a children's hybrid press, and Chrysalis Press, a small traditional press. She hosts the Women in Publishing Summit (womeninpublishingsummit.com) annually to help provide education, resources, and encouragement to women across the spectrum of writing, publishing, and selling books.
She enjoys drinking wine, spending time with her husband and friends, traveling, and just because life isn't full enough, hosting the "Lose the Cape!" podcast featuring inspirational mothers and women making a difference in the world.
Start your writing journey with her free 30-days of simple strategies to start writing at http://bit.ly/write30days. You can find her on Facebook @Writepubsell IG as @writepublishsell and on twitter @katbiggie or @writepubsell.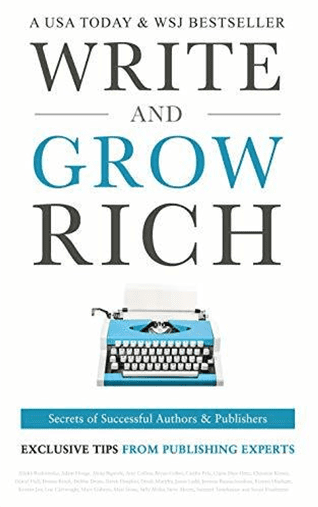 Now a USA Today and Wall Street Journal best-seller!
Have you tried all the entrepreneurial tricks only to end up back where you started? Are you passionate about an idea that you want to share with the world? Do you wish you could turn a single book into something more? Bestselling author Alinka Rutkowska started with one book and transformed it into a successful six-figure business. But she isn't the only one. Join her and 23 other powerful author entrepreneurs as they share "how they did it" in this once-in-a-lifetime collection of true stories. In Write and Grow Rich, you'll discover how this incredible group of authors, marketers, teachers, and trainers turned the corner with the power of writing behind them. By sharing their best practices, authors Adam Houge, Daniel Hall, Caitlyn Pyle, Marc Guberti, Bryan Cohen, Kristen Joy, and many more provide a roadmap to the steps you need to take to join their ranks. Inside, you'll learn which so-called expert advice to avoid and little-known tools for faster, more resilient success.